About Us
We're Tops Among Jacksonville Roofers and General Contractors.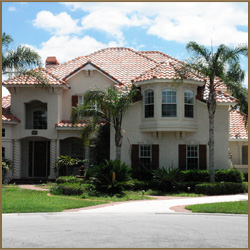 Homeowners who are seeking quality work combined with personal attention and service choose Hagerty Construction & Roofing for their Jacksonville roofing contractor. We are also the general contractor Jacksonville residents have made their top choice for home additions, kitchen remodeling and bathroom remodeling.
Hagerty Construction & Roofing, Inc. is owned by Quin J. Hagerty. Mr. Hagerty graduated from The Ohio State University with a Bachelor of Science degree from The College of Engineering - School of Architecture in 1980. He received his State of Florida General Contractors License on July 2, 1981. He began building in Florida in 1983. His first project was a five-story condominium in Marathon, Florida. Since then he has built numerous condominium projects, banks, apartment buildings, single family homes, and even a museum. He received his State of Florida Registered Roofing Contractors license on July 20, 1988. Up to that date he was allowed to install roofs on the projects that he was the General Contractor. He upgraded his license on August 26, 1998 to a State of Florida Certified Roofing Contractor.
After moving to Jacksonville in 1993, He decided to spend his time roofing, building additions and doing remodeling. He found these to be both challenging and fun. He has often said that it is a true challenge of one's construction abilities to balance cost and time while all along having his clients continue their normal life style during construction.
Over the years he has installed thousands of roofs in numerous subdivisions in several of the surrounding counties. He has also completed numerous additions and remodeling projects as well.
Today Hagerty Construction & Roofing has become the roofing contractors Jacksonville FL calls first, the experts in kitchen remodeling Jacksonville prefers, and the contractor for bathroom remodeling Jacksonville FL homeowners know will provide a stress-free experience with affordable quality and value.
Why Choose Us:
When you choose Hagerty Construction & Roofing, Inc., not only do you choose the general contractor Jacksonville FL prefers, you choose peace of mind. We go the extra mile to insure that we meet all of your needs and expectations. This starts with having our own employees. When it comes to installing your new Jacksonville roofing system we can control the quality when our own people are on the job. This quality control in turns provides you with a better project and the peace of mind of knowing that your new roof is something you won't have to worry about for a very long time.
We back this up with an industry leading warranty. The shingles we install are covered by a Limited Lifetime warranty and we can provide you with a Twenty Five (25) year warranty on workmanship. We have a Drug Free Workplace and a written safety policy. This means that are employees are tested for drugs and have been trained in safety procedures. We also send our employees to OSHA Safety Class. We take these extra steps to insure your piece of mind, and to insure you that choosing Hagerty Construction & Roofing, Inc. as your Jacksonville roofers or for home remodeling Jacksonville FL can count on for quality is the right decision.
Our Staff:
Hagerty Construction & Roofing, Inc., like many companies, is only as good as the people behind it. We have a complete staff of highly trained employees that will provide you with quality products, installed in a professional manner and backed by an industry leading warranty.From Concept to Completion - We've Got You Covered
REQUEST A FREE ESTIMATE FOR HOME REMODELING JACKSONVILLE FL
Call Hagerty Construction & Roofing today at (904) 992-9960 for a free, no obligation consultation and estimate for services in home remodeling Jacksonville FL residents count on for quality and craftsmanship.